We only refer products we have 100% confidence in. Martin has used Equis products for the last 30-plus years. MetaStock charts have been featured in his books and Intermarket Review publication since the turn of the century. The ability to create templates and electronic chart lists (layouts) as well as the ability to program custom formulas are three of the features that he finds most useful.
MetaStock Daily Charts is specifically designed for traders who do their analysis after the markets close (If you are interested in real-time trading, check out MetaStock Real Time).
Whether you're an experienced, active trader or just learning how to trade the markets, MetaStock Daily Charts helps you succeed. It contains powerful analysis tools so you can make informed decisions about what to buy and sell, and when to execute… resulting in the most profitable trades.
MetaStock is a powerful, flexible tool designed to help you as a trader scan the market to identify current opportunities based on your criteria, backtest your strategies and see how well they have performed in the past, forecast future price action based on past events, and even get expert advice right on your chart based on some of the markets most popular strategies.
MetaStock Daily Charts comes with many out-of-the-box trading solutions that are reliable and easy to use. If you want to take your analysis to the next level, MetaStock Daily Charts gives you the ability to customize these solutions to your particular trading style.
Whether you trade stocks, options, mutual funds, futures, commodities, FOREX, bonds or indices, MetaStock Daily Charts has the tools you need for superior market analysis and financial success.
MetaStock is flexible enough to help you build and customize lists so you can manage and track your portfolio. If you trade options it even has powerful option tracking and filtering tools.
Of course, the best charting program is only as good as the data that feeds it, that's why MetaStock Daily Charts works seamlessly with DataLink to provide your MetaStock charts and analysis with industry-leading data that is accurate, clean, and dependable.
MetaStock Daily Charts can either be purchased for a one time charge or subscribed to on a monthly or yearly basis.
Page Layouts help you save time and stay organized. Save all of your on-screen charts together like pages in a book. So whenever you open your layout, the same securities appear.
Templates also save you time by applying the same set of indicators and studies to different securities. Rotate through different securities while keeping the same indicators and line studies on the screen.
Built-in toolbars let you easily refresh data, change periodicity, rescale the Y-Axis, zoom in & out, choose "previous" or "next security" in the open folder, and choose a security to open.
The Object-Oriented Interface allows you to click on an object and get an instant menu for that item. The Click and Pick/Drag and Drop features let you drag price plots, indicators, text, and lines from one chart to another.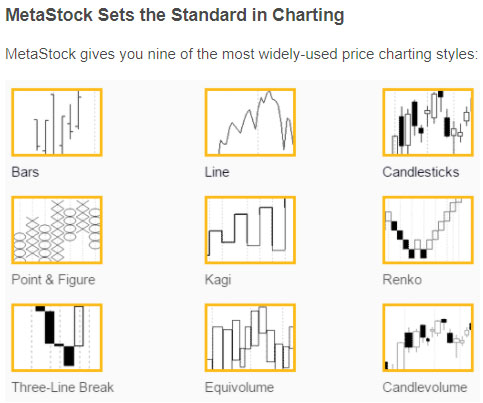 Indicators and Trading Systems
MetaStock Indicators | View the complete list
Analyze the market with the insight of the most respected traders in history with MetaStock's comprehensive collection of indicators and line studies – over 150 are included. MetaStock's built-in indicator interpretations even help you understand how to trade each indicator. For advanced users, The Indicator Builder lets you write your own indicators.
Adaptive Indicators
MetaStock includes a large library of Adaptive Indicators. It includes systems developed by MetaStock as well as a package of Adaptive Indicators based on the work of John Elhers. Rather than using a fixed look back period Adaptive Indicators react to the Market using a dynamic look back functionality. These are based on volatility, cycle, or a combination of both.
The RMO System | Watch the Video
This revolutionary trend-based system was developed by Rahul Mohindar. It incorporates a three-step indicator triggered by the Rahul Mohindar Oscillator and has become one of the most popular systems in MetaStock for its ease of use and reliability. It now includes an expert advisor commentary to help you evaluate the buy and sell signals.
CandleStick
You can use the included systems to easily have Metastock identify over 32 candle patterns right on your chart and give you and give you advice on how to interpret and use these candle patterns. It has also has a wide variety of candle scanning tools built right in.
The Performance Systems
Trade at a higher level of confidence and expertise than you ever thought possible with the 26 trading systems included in MetaStock. Chosen after countless hours of intensive testing and rigorous research, these systems have a highly successful track record of profitable results.
Martin Pring Systems
Take advantage of Martin Pring's time-tested method for identifying emerging sectors in the market cycle. Martin Pring's Special K combines short, intermediate and long-term time frames into one series. This "Special K" series often peaks and troughs with actual bull and bear market turning points. It can be used in many ways. The two most important are:
Identify primary trend reversals at a relatively early stage
Using short-term changes in direction of this unique indicator to spot 1 to 6-week buying and shorting opportunities
Elliott Wave
Based on the legendary work of R.N. Elliott, the MetaStock Elliott Waves System gives you the ability to chart High, Medium and Low volatility Elliott Waves. Out of the box, you get 3 expert advisors, 6 explorations, and 5 templates. You also have the free option as a 17 and above user to download the complete Suite of Elliott Tools.
LCI Systems
Designed to help trader's identify Support and Resistance quickly and easily the LCI Systems use Support & Resistance to identify market reversals with ease. It incorporates Support, Resistance, Fibonnaci, Volume, Price, a Modified %R all to help you identify market changes with an easy to follow Score Ranking System.
Other Systems
The systems above represent just a small sampling of what is included in MetaStock. You'll find a wide variety of expert and indicators. Here are just a few of the popular expert's that have included systems in MetaStock. Greg Morris, Don Fishback, Jim Berg, Joe DiNapoli, Justine Pollard, Bill Williams, Cythia Kase, Uncle Mike, and more
Write Your Own System
MetaStock knows that many of our clients have their own ideas about what makes a great system. The MetaStock formula language is easy to learn and allows you to create just about any system you can think of. Not into programming? Tell us what you want and we'll do it for a nominal fee.Find out more about custom formula requests.